| | | | | |
| --- | --- | --- | --- | --- |
| [ | Current Mood | | | accomplished | ] |
| [ | Current Music | | | "Cosmic Love" - Florence + the Machine | ] |
Hi. I miss you, LiveJournal. No matter how uneventful my friends list gets, no matter how long I stay away, I will always come back--if only for the occasional, lazily bulleted/categorized update of my life. And so it goes...

Day Job
After nearly four years of hard, brain-sweaty work, I have been promoted to assistant marketing manager. My paycheck no longer depresses me, and I have my very own office! Witness the beauty that is Jenn's not-so-corporate lair!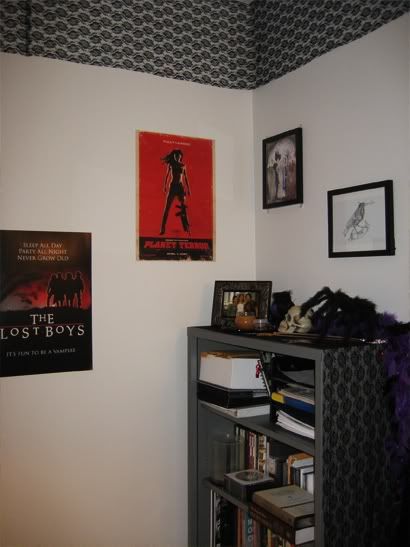 My favorite corner, complete with black lace trim on the walls, awesome movie posters, and nice artwork, including a print of
johannakatt's wonderful piece Horror Vacui. ( MoreCollapse )

Love Life
Chris and I are closing in on our seven-year anniversary. We don't know if we'll ever get married or have babies, but we love the shit out of each other, and for now, that's more than enough. <3 Recently, we took a week-long trip to Hawaii, and besides my getting sick (like I always do on vacation), it was great.



We went ziplining, there--sooo, so much fun! ( We also did your standard Hawaiian sight-seeing.Collapse )

Family
My parents recently had to put my Grandma Jensen in an assisted-living home. The situation is absolute shit. I feel badly for my grandma, who was always so proud of her independence; but I feel even worse for my dad, who loves her, takes care of her, and gets no gratitude for it. I wish I could be more help or comfort to him right now, but it's difficult, since I live an hour away and work full time. =o(

On a happier note, Chris and I have added a new member to our rat family. Our neighbor works at a science lab that does testing on rats, and they recently got a new shipment of test-subjects in. There was one too many in the shipment; and had our neighbor not smuggled her out, the company would have "sacrificed" her. Luckily, she was successfully rescued and welcomed into the most loving rat home imaginable. We named her Bonus. ;) Here she is, snuggling with her new big sister Buffy: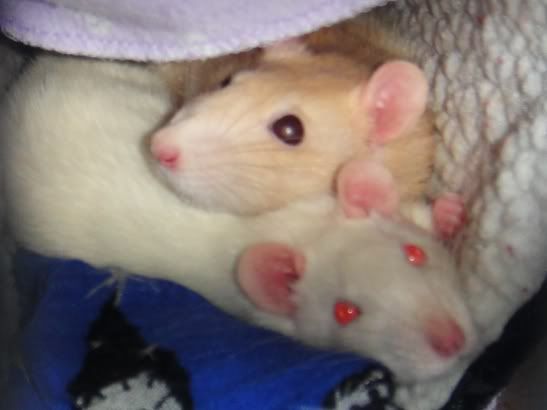 Modeling
I've continued to participate in some recreational modeling on the weekends and have most recently updated my Flickr with a new set from Adam Gross's "The Hyde Project." I'm pretty proud of these ones. (Click on the thumbnails to see larger versions at Flickr.)




Artwork
I'm still drawing whenever I can make the time, and have gotten a few recent commissions, which is nice (yay extra cash!) Here's a semi-new experiment in digital art--Fancy Rats! (There's lots more new stuff at my deviantART gallery.)